ART WARD, Artists Residency, Perth, Western Australia
The bay window was dressed as a museological display with a glass vitrine containing a series of intaglio carved works in progress – the carvings presented in this way appear to be precious stone fragments. I was toying with this containment and the automatic association of value as an institutional device. Placing the glass cabinet inside the shop window created a second skin on the idea, buffering the work in such a way to promote an alternate reading, the case itself as a lens through which to read the contents.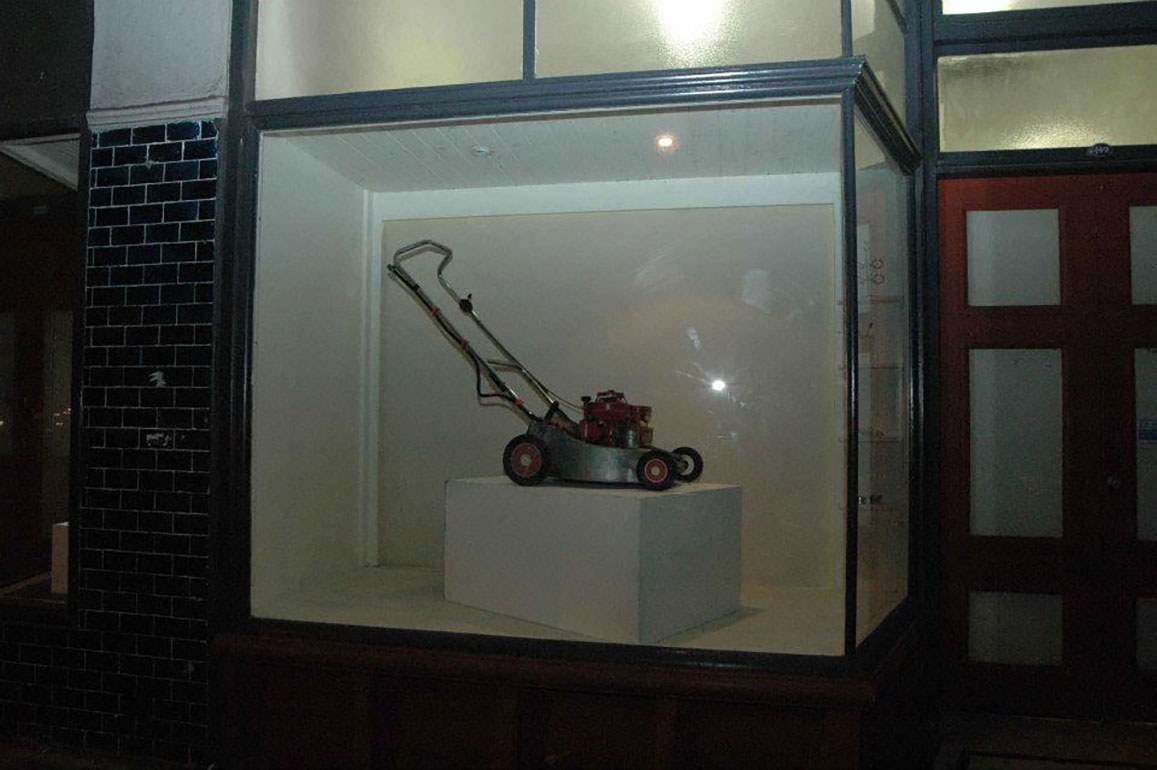 Performance piece, 2011, restored mower, plinth
The success of this strategy as an allegorical re-reading tool led to many variations within the term of the residency. Which informed a body of works shown in Wellington in 2014. 
In Vitro
The fragile skin of the glass boxes produces a sensory barrier between the tactile sculptures and the audience. This emphasizes the gap in the narrative value of the works, causing the audience to investigate more closely the enclosed objects meaning. As with the residency window pieces, the reading of the objects is displaced to a kind of third-party position in deference to the encapsulation of the work itself.
In Vitro, 2014, installation view
Vessel, 2011, Polyester, wood, glass   
Artward
The genesis of this idea took shape during my MFA at the University of Auckland. The idea revolved around a concept theater, a space where artwork could be bought into play or resuscitated as a performance work. The working drawings indicated apparatus and lighting as props.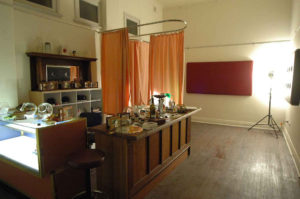 Artward, 2011, installation view
In 2011 this idea reemerged as the art-ward; A place where ideas might convalesce and gain strength until they were strong enough to face the world. Works in progress were cloaked behind hospital curtains, challenging the audience to overcome established taboos around art engagement and rewarding those who might participate as voyeurs. This was emphasized by the strategic use and placement of hospital ward trollies I had salvaged and modified as work-stations for a variety of practical tasks.
This entry was posted on Wednesday, May 23rd, 2012 at 4:31 am
You can follow any responses to this entry through the RSS 2.0 feed.
Posted in: INSTALLATIONS